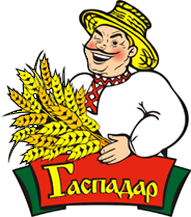 Flour is the food product which is got as the result of processing grains (food wheat and rye).
The main purpose of flour is getting bakery, except this flour is used in pasta, confectionery and other brunches of food industry.
Every type of flour has distinctive signs of grain it is made of.
Flour grades – are varieties, which belong to the same type but they differ by quality attributes such as: colour, fineness, ash content, whiteness, gluten content and its quality.
All flour for sale passes strict control for quality at all stages of its production that lets us gain trust and customers' love.
Today we are glad to offer our customers the following range of flour by trade mark "Gaspadar".
We try to find the individual approach for every customer and take into account all your desires concerning cooperation issues.