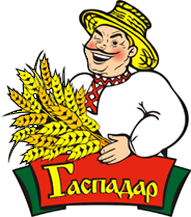 Semi-finished products of flour
Back
Flour mixes by trade mark "Gaspadar" are perfect for your favorite bakery.
Every experienced or beginner hostess or host without any difficulties will cook pancakes or pizza and will be able to
bake the tastiest rolls, bread, doughnuts and will please their loved ones with tasty and aromatic dishes.
The composition of our flour mixes is worked out by leading technologists of our enterprise, tested in scientific
laboratories, passed the necessary examination and certification.
Choosing flour mixes by trade mark "Gaspadar" you get:
Quality product
Always perfect result
Saving personal time
Good mood